Apple Watch 6 could be faster, more reliable and water resistant
We still don't know much about the Apple Watch 6, but reputed analyst Ming-Chi Kuo has new predictions for the models coming in 2020: faster speeds, improved wireless connectivity, and better water resistance.That's all thanks to the switch to liquid crystal polymer (LCP) materials in the circuit boards coming in the company's next wearable, the Apple Watch 6, Kuo reportedly claimed in a research note with investor firm TF International Securities - a note seen by MacRumors. (Series 5 models and prior use polymide (PI) instead.)
AMD may pack GPU units into Ryzen 9 to keep Intel on edge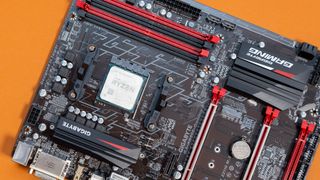 AMD's latest CPUs built on the Zen 2 architecture are ticking a lot of the right boxes, and now the company appears prepared to give its higher-end models a boost.
 A number of Ryzen 9 APUs (CPUs paired with GPU cores on the same chip) appear in a leak from @Komachi_Ensaka on Twitter, shared by Notebookcheck. This leak shows a listing of products from AMD, and next to each processor name, there's a designation that appears to indicate graphics cores. 
n the case of four Ryzen 9 processors, there appear to be 12 graphical compute units. These are 45W Ryzen 9 and 15W Ryzen 9 Pro models, making them appear to be likely contenders for high-performance mobile computers.
Motorola Razr 2019 release date, price, news and leaks
Motorola Razr flip-phones were iconic devices back before full-featured smartphones conquered the handset world – but there's a chance that unforgettable design could make a flashy return with a new Motorola device that will be unveiled in mere days. We've heard many rumors about the new handset, allegedly called the Motorola Razr 2019: a folding phone that takes the old-school form factor and turns it into a 'clamshell'-type foldable phone. The foldable phone battleground is heating up, with the Samsung Galaxy Fold available to buy and the Huawei Mate X coming soon. But while the latter are premium devices, the Motorola Razr V4 (a potential name following up on the V3) is expected to be one of the first 'affordable' foldables.
Apple throws Instagram 'stalker' app off store
Like Patrol charged a fee to notify users which posts their friends had "liked" and who they had recently followed.The action comes a month after Instagram had tried to force the app to shut down after accusing it of scraping people's data without their consent.Like Patrol's Mexico-based developer insists the app merely utilised public data.And Sergio Luis Quintero told the BBC that he now plans to challenge Apple's ban."We plan to appeal this decision in the coming days," he said.He added that he also intended to make Like Patrol's code open source so that others could reproduce its functionality.