Amazon Alexa gets Samuel L Jackson and other celebrity voices
Amazon has announced that its virtual assistant Alexa will soon be able to mimic the voice of the actor Samuel L Jackson among other celebrities.
The firm intends to charge a fee for the feature, with each voice costing $0.99 (80p).
The company has also refreshed its range of Echo speakers, adding a larger high-end version with Dolby Atmos for "3D sound".
Amazon is the world's best-selling smart speaker brand.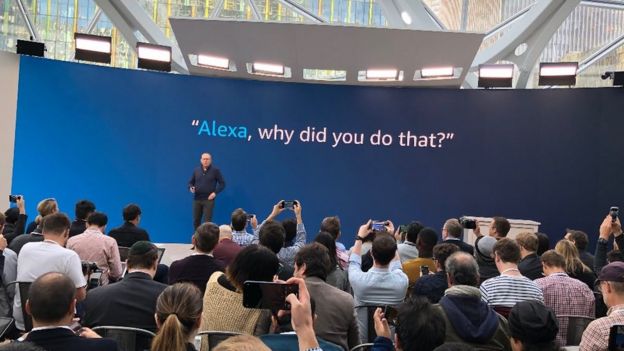 However, that position is being challenged by Chinese companies including Baidu, while Google is also expected to unveil new gear of its own next month.
All the new Amazon Echo devices and Alexa features, ranked
Dave Limp, Amazon's senior vice president of devices and services, just announced more new products and features in one mile-a-minute launch at Amazon's The Spheres HQ in Seattle than most execs get to announce in a decade. We were verklempt – verklempt! – just sat there listening to it all. In a good way.
If 2018 was about putting Alexa in everything, 2019 is about putting Alexa everywhere: in your ears, on your face, on your hands. But wait, also in your plugs, in more cars, in your garden... please make it stop. No Alexa waffle maker, though, for which Limp found time to apologise.
The iPhone 11 vs the iPhone 11 Pro and Pro Max
It's post-iPhone launch day and we're going to assume a few things about you. First, you're looking to upgrade your phone and second, you've narrowed it down to one of the three new iPhone 11 models.
Apple's typically superlative conference blurred the lines somewhat between the three devices so here's our guide to the main differences between them. Put simply, the £1,049 iPhone 11 Pro is the smallest and lightest of the three, with the key triple camera array that's the main hardware upgrade for 2019 and a decent improvement in battery life.
Samsung to launch flagship Galaxy S11 with 108MP camera next ..